Thriller TV show "You" season 2 will be back in less than six months and we are already getting our popcorns ready.
Season one is based on a novel by Caroline Kepnes by the same name. The second season follows the infamous Joe Goldberg, brilliantly played by Penn Badgley (Yes, the same Dan from "Gossip Girl") moving from New York to Los Angeles. Majority of the cast is new (he killed them all) and the focus will be more on Joe's childhood. The story is loosely based on another novel by Kepnes, " Hidden Bodies".
Victoria Pedretti will be the new "love interest" in "You" season 2, called Love and she will show us another side of creepy Joe. Candace (Ambyr Childers) survived Joe once, but will she be able to stay alive? We have to wait and see.
As per Penn Badgley, we will see what happened to Becks: "There's a re-visitation of that with Joe in the second episode of the second season, where you get to see a bit more of the hard reality of what he did to her." Penn has been very vocal about Joe, always pointing out how sick and twisted his character is, but things are about to get even worse: "There are some things I've done with prosthetic bodies in this season that were kind of nauseating as I did them, I will say that."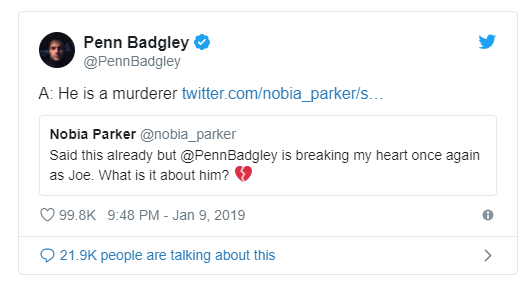 While Badgley is a good looking guy, his superfans did ask him to choke them and do some very Joe-like things. He did remind fans numerous times not to fall in love with Joe. One Twitter post sums up his feelings perfectly.
While "You "the TV show is entertaining, it does teach youngsters a lot about the era of social networks. It is not a romance or love story, it is not glorifying stalking. Instead, it is a reminder that there are many disturbed people who can look and be as charming as Joe. That being said, will Penn Badgley return as Dan in new Gossip Girl? We don't think so. What about you?