Black-ish actress Tracee Ellis Ross is another celebrity in the beauty industry. She shared a nude photo as an advertisement for her brand Pattern. Pattern by Tracee Ellis Ross is meant "specifically for curly, coily and tight textured hair.⁠"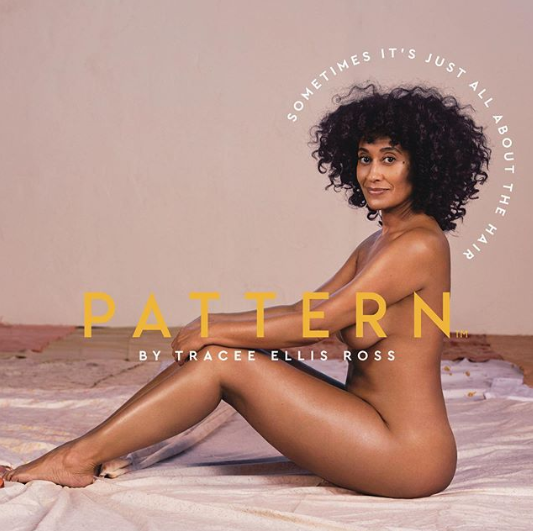 "Many of us can chronicle the journey of our self-acceptance through the journey of our hair. I think, in all honesty, the timing is perfect," Diana Ross' daughter told Allure. Actress and stylist continued: "Pattern is the result of 20 years of dreaming, 10 years in the making (I wrote my first brand pitch in 2008) and 2 years of working with chemists." She tried 72 different samples before picking out seven for phase one.
Pattern by Tracee Ellis Ross products will be available on Sept. 9 at patternbeauty.com and at Ulta on September 22 (with prices from $9 to $42). The prices aren't high, and Miss Ross did think of everything, so you can get various kinds of conditioners, as well as two kinds of oils. But it's more than just another celebrity beauty brand, it is her response to natural hair movement.
The natural hair movement encourages women of African descent to keep their heritage. Many famous black women spoke about the need to have trained hairstylists for photoshoots and filming. Kerry Washington said: "Battles that I often had to wage, boulders I had to push uphill, whether it was to have a hairstylist who understood the texture of my hair or to have a storyline that fairly addressed my experiences as a black woman."
Some might say "It's just hair." However, it is much more than that, given the history. It is about equality, respect, and empowerment. Maybe that's why Tracee Ellis Ross went nude for a promo photo shoot. To really help people understand that it's about getting in touch with your true self. And with your heritage, your roots.
Black-ish spinoff Mixed-ish will debut Sept. 24. Tracee Ellis Ross also stars in a new movie with Dakota Johnson. Covers, directed by Nisha Ganatra, will be out in May 2020.