Peter Weber aka Pilot Peter is a safe bet for the new Bachelor. ABC is yet to make a final decision, or at least, make it official. Still, there is some hope for the first-ever black Bachelor in 2020 and it comes in the form of gorgeous Mike Johnson.
The Bachelor Nation is awaiting the final decision, but these aren't the only fan favorites. Tyler Cameron and Derek Peth, who just left the Bachelor in Paradise, are also in the competition. Sure, they are far behind Peter and Mike, but anything is possible. Or not.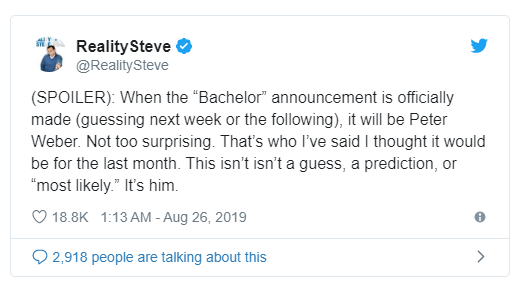 According to Reality Steve, who is 90% of the time a reliable source, the next Bachelor is, in fact, Peter Weber. The issue here is that he had a girlfriend just before he entered Hannah Brown's season and left her for the show. Things probably weren't that serious, to begin with, but on paper, this guy doesn't sound like the best choice. However, Reality Steve sounds very confident, as you can see in his tweet.
So what did Mike Johnson do wrong? He did make one mistake, according to newlywed Chris Randone. He explained to Entertainment Tonight: "I think Mike would be a great Bachelor… and we can make history with that." Chris was acknowledging the fact that in over 20 seasons we never saw a black Bachelor. Then continued: "There was a key moment in Paradise that just took place, where Mike didn't show that next level what it took as far as the empathy or the emotional side to be vulnerable."
Randone was pointing out that Mike didn't take any effort to talk to Miss Brown about their relationship. Since then, Chris and his bride, Krystal Nielsen are team Derek: "We're very public supporters for Derek, ever since we saw Demi Burnett's relationship unfold with Kristian Haggerty, and how he handled that with such class and grace, and allowed Demi a safe space for her to open up and show who she was. And I think had she been with someone else, perhaps she wouldn't have felt so safe to open up her heart and let us into the struggles she was going through," Nielson told ET.
Filming of the new Bachelor will start later in the fall. The premiere will be in January, which is why we call the future lead as the Bachelor 2020. As for Bachelor in Paradise, it's all a mess now. But we do know that all the drama and all the tears are soon to be over. And many couples are still on. At least according to their Instagrams and Reality Steve.