Christmas movies are in the league of their own. From National Lampoon's Christmas Vacation, Christmas with the Kranks, Santa Claus the movie to Netflix and more, here's the list your family will enjoy.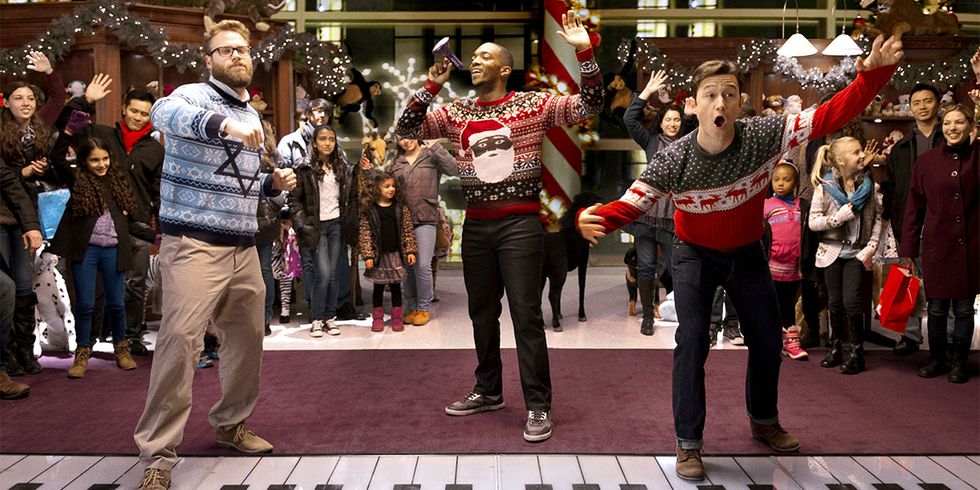 Not all Christmas themed movies are romance-family oriented. Some, like Bad Santa, The Night Before, psycho-sexual Eyes Wide Shut, Gremlins, are not really going to set the mood, but they are quite interesting. Naturally, we have to mention Die Hard. Is that the best Christmas movie or is that movie shouldn't be on Christmas list? The majority agrees it is the best, but again, will it set the right tone? We don't think so!
Christmas Romance
When it comes to romance, any Hallmark movie with the word Christmas is decent enough. Here's the list of our top ten:
Bridget Jones's Diary (2001) – This isn't just one of those Christmas movies with romance, it's hilarious and scarily relatable.
Four Christmases – What can we say: we love Reese Witherspoon and we love Vince Vaughn. It's predictable, yet you will get feelings…
While You Were Sleeping – Never underestimate the 90s chick flick.
Just Friends – You will laugh, you will cry, and laugh some more. Best scenes always include Anna Faris. And Ryan Reynolds is a hottie!
The Holiday – Again, it's all about the cast. And the British actors made their country proud! Law and Winslet are delightful in this modern Christmas movie classic.

Love Actually – Christmas is all around me… This one is a classic and it is so sweet, maybe even too sweet, but it's so lovable!
The Shop Around the Corner – This is one of the most beautiful movies, with the perfect Christmas ending. No complaints here.
White Christmas – Music, WWII and Old Hollywood glamour.
The Last Holiday – Queen Latifah owns this dramedy. The woman is dying, and LL Cool J is there, so she cannot die. Right?
The Family Stone – If you don't like Sarah Jessica Parker's character, guess what? You're not the only one!

Christmas Fun
National Lampoon's Vacation – Every time Chevy Chase and Beverly D'Angelo go on vacation, it's full of laughter and adventures. This is one of the must-rewatch Christmas movies every year.
Bad Moms 2 – Naughty moms already hate their not so jolly Christmases. Add their spectacular moms and you'll get a perfect fun!
Home Alone – The year 3020 and Home Alone is still one of the best Christmas movies ever made.
Christmas with the Kranks – Canceling Christmas sounds reasonable, due to all the duties and prices. But nothing is ever that easy…
Scrooged – A Christmas Carol and Ghostbusters collided and this is the result. Bill Murray in one of his funniest roles!
Trading Places – You want to laugh out loud? Just rent a movie with Eddie Murphy and Dan Aykroyd. They will create the Christmas magic!
Deck the Halls – Love thy neighbor? Nope, and if you do hate both leading characters, you are getting into the Christmas spirit the right way!
Planes Trains and Automobiles – The Thanksgiving movie can easily translate into any other holiday. It's one of our favorite Christmas movies with comical geniuses. I'll Be Home For Christmas doesn't count.
Elf – Will Ferrell is our all-time best elf ever. It's heartwarming and hilarious, just enough cheesy.
The Santa Clause – Here is a movie with a good old-fashioned holiday spirit, just waiting for you to enjoy it.
Which Christmas movies would you add? Should Last Christmas on the list? And can you guess which movie we skipped, because it's one every Christmas list?