Ricky Gervais caused some severe grief as well as comic relief during his gig as a Golden Globes host. But, what's so strange is that the standup comedian, actor, musician, is no stranger to controversy. Many were surprised by his words, but we weren't. Because we love the creator of The Office and maybe you will too. Get to know a bit more about this extraordinary man.
Gervais started in the music business, way back in the 80s. He was a manager to Suede before they became a crucial part of what we know as Britpop. Everything changed in 2000 when he got his show, Meet Ricky Gervais, and just a year later created The Office. That's how the American audience got to know him, as a guy who made one of the best sitcoms.
Ricky Gervais is no stranger to Hollywood. He wrote and directed The Invention of Lying, and started in several movies. Standup comedy is where his true talent shines, and Netflix did a great job with providing him several shows. From Humanity to After Life, these are some examples of how versatile the British writer, comedian, actor, really is.
Gervais and his Twitter account are even more famous than the actor himself. He doesn't hold back and doesn't apologize. Is that rude? Sometimes, but it's also refreshing because otherwise, he would become the Hollywood elite he loves to call out. But it's not just about celebrities. Twitter is his platform as an activist since Ricky Gervais is a strong supporter of animal rights and numerous charities. Winner of seven BAFTA Awards, five British Comedy Awards, two Emmy Awards, three Golden Globe Awards and the Rose d'Or, is called out for his white, male privilege. Still, it's his job to question people, situations, and be the Devil's advocate. That's more than free speech, that's a job of standup comedians.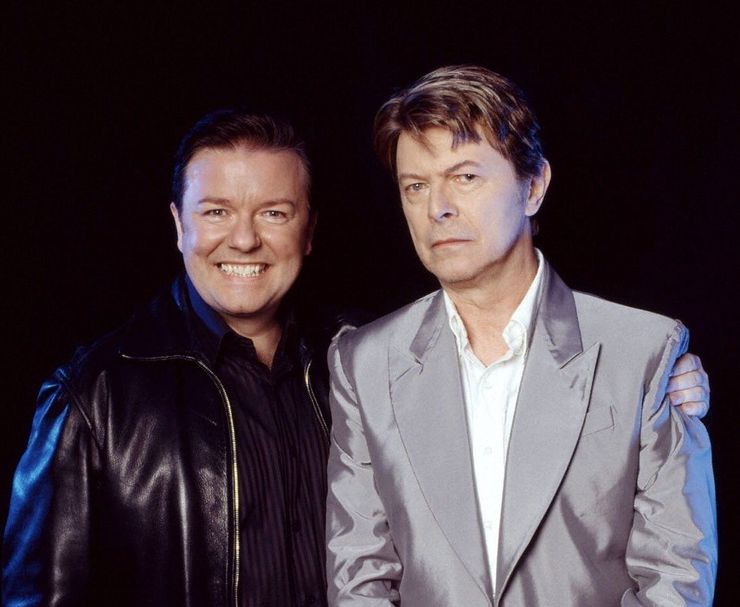 Gervais has many famous friends and fans. After Bowie's passing, he wrote a piece for the Hollywood Reporter that was titled I Never Forgot He Was My Hero, Even When He Became My Friend. A charity show showed George Michael and Gervais playing lovers. He declined roles in The Da Vinci Code, Mission: Impossible III, 2009's Star Trek reboot, and Pirates of the Caribbean: Dead Man's Chest. Gervais isn't anti-Hollywood, the standup comedian just doesn't belong there.
Ricky Gervais has a degree in philosophy from University College London. That's where he met his partner. The two have been dating since 1982, but producer and author Jane Fallon and Gervais never wanted to get married and raise kids. The couple stated; "there's no point in us having an actual ceremony before the eyes of God because there is no God" or have children because they "didn't fancy dedicating 16 years of [their] lives […] and there are too many children, of course."
Regarding Golden Globes, this was his fifth and final time playing the host. Ricky Gervais ticked off pretty much half of the planet, stating that celebrities shouldn't get political. At the same time, he doesn't hide his feeling regarding the politics, Golden Globes, or the Oscars; the Grammys are a celebration of art. If you're lucky enough to make art, in the age of social media, you are very much able to express your political views. You don't have to poison the evening of celebrating films and music by stating your opinion, especially since the majority of celebrities cannot speak for us, mere mortals.


The Oscars are, once again, hostless. And Ricky Gervais didn't tweet anything but an emoji. Make of it what you will. But people are tired of being preached, and Gervais knows that. Just like the standup comedian knows Leo DiCaprio's love life is creepy.