J.Lo is turning 50 and to celebrate the ocasson Versace made a different version of that dress. Actually, there's no dress but the print is not available on sneakers!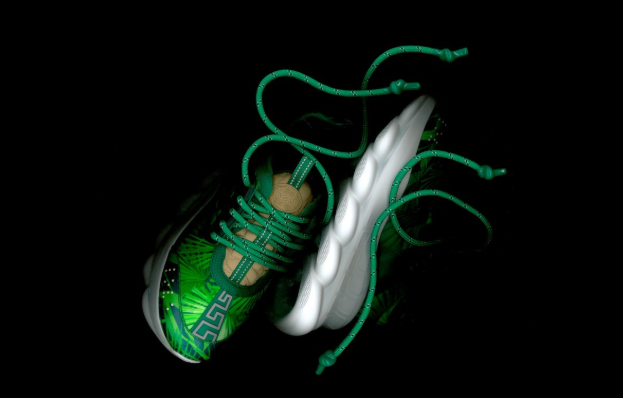 Donatella Versace's fashion house announced a partnership with the lifestyle brand Concepts on a limited-edition sneaker in honor of the superstar's birthday on July 24.
Jennifer Lopez wore the dress in 2000, for the Grammy Awards. The dress made Jenny from the block an international style icon and sex symbol. That jungle print and deep green colors are really something! Of course, the decolletage is what men really saw and we cannot blame them.
The cool sneakers are already in stores, in Boston and New York. You can also find them online on http://www.cncpts.com/. Versace and Concepts really know how to treat a lady!
In unrelated news, J.Lo aka Jennifer Lopez is starting her new tour. Her fiance A-Rod aka Alex Rodriguez is her MVP. Lopez explained recently that his support is irreplaceable. But you won't hear the wedding bells this year. Probably next, because the singer, actress, businesswoman is ready to get married again.
At $1,075 a pair, the "Chain Reaction" sneakers promise to make even the most basic outfit stand out. It is a treat for J.Lo, her fans and it is a great way to honor memorable fashion moments from the 2000s. What do you think? Hit or a miss? Because we seriously love them, but they can be a bit too much…Drop a comment!