Selena Gomez is promoting the new single, Lose You To Love Me, and her outfits are incredible. Her fashion marathon is wearable and full of trendy pieces, yet they leave enough room for many women to make these outfits their own, in terms of styling. From New York to Los Angeles, here's what singer/actress wore, check it out, it will make you step out of your comfort zone.
The Lose You To Love Me singer wore a teal velvet suit by Sies Marjan. The color is mesmerizing, for any skin tone and you can wear a similar suit to the office or during a night out.
Next, Selena Gomez stepped out in a Ganni brown print dress and knee-high boots. Slouch boots are a must-have this fall and winter. And the dress in typically autumn colors is classy and versatile.
While sleeveless tops are not really for chili weather, roll necks are. Striped skirts are always IN and we love the ponytail and the red lipstick. Selena Gomez is our new fashion muse.
A grey plaid oversized suit by Frame is timeless. It is really something to wear at your 20s as well as into your 70s. So simple, yet so chic!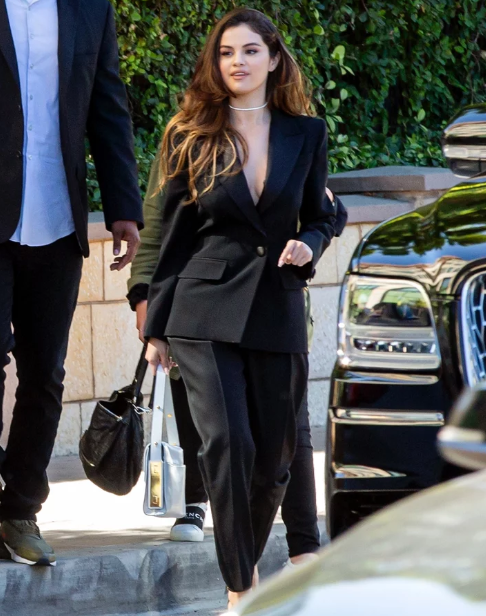 Just like any other woman, Selena Gomez cannot resist a plain black suit. Hers is Givenchy, and she completed the look with a white bag, white sandals, and a necklace. No top. Cheeky, isn't it?
For her interview with Ryan Seacrest, Lose You To Love Me singer wore a white sweater with black stripes. It looks so cozy and you can dress it up and down.

Sure, it does help to be this gorgeous, but during her busy week, Gomez also supported her BFF Taylor Swift. Selena Gomez posted a photo in SKIMS, then took it down due to all the Kardashian/Swift drama.