Celebrities love to make a big deal out of nothing, like disabling their social media accounts. Channing Tatum and Jessie J did it together, in separate posts. The couple did what every other famous people did before: posted a "meaningful" note to let their fans know they are on a break. From Instagram, not each other.
Here's what Channing had to say: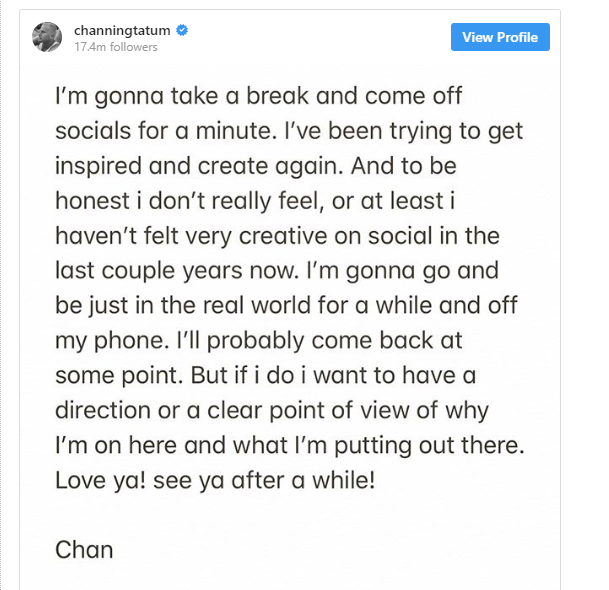 And here's the message from his British girlfriend, singer Jessie J: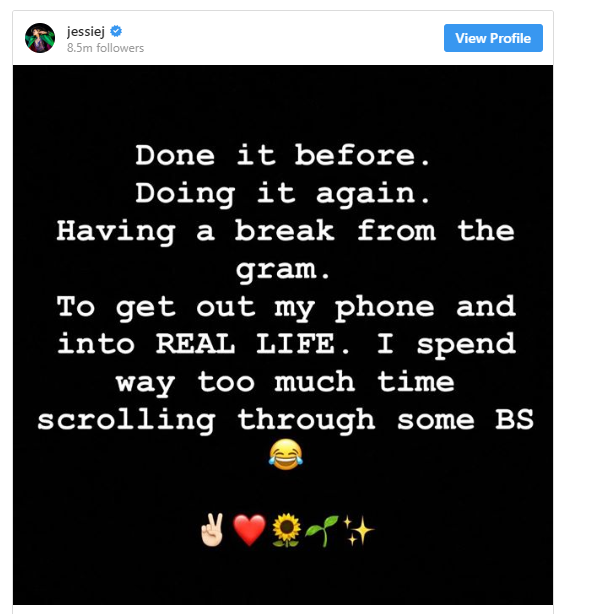 Celebrities recently started taking mostly Instagram breaks. Some probably want to explore the real world, while others just gain more attention. Iggy Azalea did it, but in her case, it was over some GQ photos from 2016. At least she didn't give a whole speech, like others.
Pete Davidson, Cardi B, did after some feuds. Blake Lively deleted her photos to promote a movie, just like her friend Taylor Swift did it for her previous album. Selena Gomez had to quit social networks after her accounts were hacked, while her ex, Justin Bieber quit Instagram over attacks directed at his then-girlfriend Sofia Richie.
Unlike others, Kanye West's Twitter is often off, but then when he is online, he usually says something that makes others feel uncomfortable. His wife, Kim Kardashian, on the other hand, lives from the good and the bad comments, so if she decided to take an Instagram break, it will be the first sign of the apocalypse.
As for Channing Tatum and Jessie J, they started dating almost a year ago. First, it was just a fling, as per blind gossip. Then there were some rumors about the break-up. Only they know what happened, so we are just going to assume that everything is fine, at this moment.
When it comes to social networks, if you cannot control all the scrolling, there are apps for that. You don't need to make an announcement: if you need a break, just disable your accounts. People who know you will have your number. People who just following you for the sake of it, well, they won't really miss you.